Good points
Good temperament

Intelligent

Makes a good household companion/guard

Reliable working dog
Take heed
Responds best to kind, firm handling – not being chained or kennelled in a yard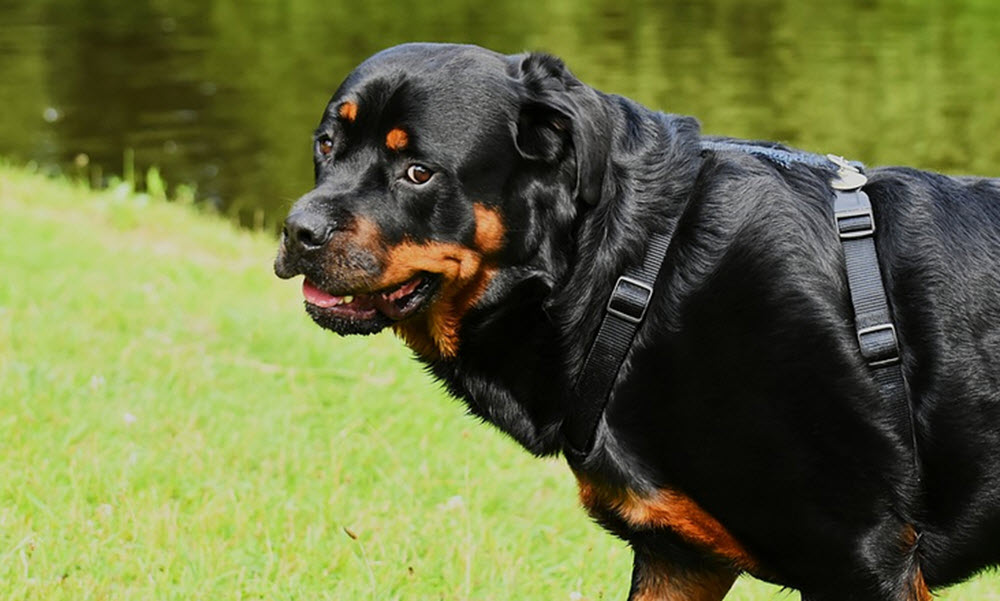 The Rottweiler is a German working dog of high intelligence and good temperament. It has been a draught dog and herdec and is still used as guard, police dog, sled dog and mountain rescue dog, In many countries it is sought after as a companion/pet and guard, It is a popular contender in the show ring and does well in obedience tests.
Size
Height at shoulder: dog 25-27in (63,5-68.5cm); bitch 23-25in (58,5-63,5cm),
Exercise
Regular walks and runs.
Grooming
Regular brushing will keep the coat in good condition.
Feeding
Recommended would be 20-330z (587-936g) of a branded, meaty product with biscuit added, or 3-5 cupfuls of a dry food, complete diet, mixed in the proportion of 1 cup of feed to V2 cup of hot or cold water,
Origin and history
The Rottweiler is a butcher's dog, It comes from the German town of Rottweil in Wurttemberg, where it is known as the Rottweiler Metzgerhund or Rottweil butcher's dog, It was known in the Middle Ages as a hunter of wild boar and later as a revered and trusted cattle dog as well as a draught dog that would draw carts for butchers and cattle dealers, Just before World War I its abilities were recognized as a police dog and guard, Thelma Gray of the Rozavel Kennels introduced the breed into the United Kingdom in 1936, It was developing a following until World War II, when breeding ceased, and it was not until a Captain Roy-Smith, serving with the Occupation Army in Germany, brought home a dog and bitch that a sound breeding programme was re-established. Since then a few breed devotees have produced many good specimens.
SHOW STANDARD
General appearance
The Rottweiler is an above average­sized, stalwart dog, Its correctly proportioned, compact and powerful form permits feats of great strength, manoeuvrability and endurance, Its bearing displays boldness and courage; and the tranquil gaze manifests good nature and devotion,
COLOUR
The animal is black with clearly defined markings on the cheeks, muzzle, chest and legs, as well as over both eyes and the area beneath the tail. The markings range from rich tan to mahogany brown,
Head and skull
The head is of medium length; the skull between the ears is broad, The forehead line is moderately arched as seen from the side. The occipital bone is well developed but not conspicuous, Cheeks are well-muscled but not prominent with the zygomatic arch well formed, The skin on the head should not be loose, although it is allowed to form a moderate wrinkle when the dog is attentive, Muzzle fairly deep with topline level and length not more than that from stop to occiput.
Tail
Carried horizontally; short, strong and not set too low, It should be docked at the first joint. (No longer encouraged)
Feet
Strong, round and compact with the toes well arched, The hindfeet are somewhat longer than the front ones. The pads should be very hard, and the toenails short, dark and strong, Rear dew-claws are removed,